The goslings are growing and eating up every thing they can find. I pull them grass and break it into little bits to feed them. By the time it's put into their bowl, it's gone. Maybe that means they will be good weeders for the garden. :)
When I went to make the picture this afternoon, Mr. Goliath fell out of the pen. I caught hold of him and he got loose from me and ran. I turned to catch him and stepped on his foot. I thought I'd broken his leg but fortunately it's not broken. Even though he is limping...Of course with someone like me stepping on a little goslings foot it's a miracle he's not maimed for life.
The picture below is from June 7th when they were a couple of days old.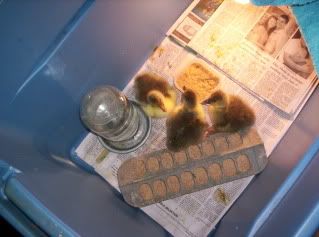 This is the pictures I took today. They're over in the corner because they became scared when they both tried to run out of the pen.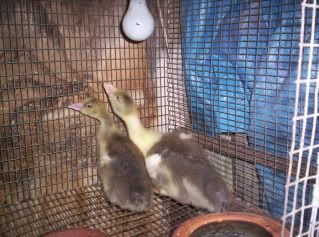 Another picture....They're gobbling down the grass.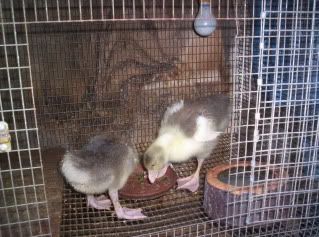 So far they are doing good. It won't be long before they'll be ready for a new home. They will probably live in one of the pens for a while. That is until the garden is fenced around it and they have a house that I can close at night. I've already told Santa what I want for Christmas and my Honey what I want for our anniversary and for my birthday. I have to get my order in early so he'll have time to think on it and then get it done. LOL