Our trip to Louisiana went wonderfully well. We got to visit with one of Daddy's sisters and the two surviving brothers. Aunt Betty was unable to come to the get together and she was sorely missed.
There's just nothing like sitting around a table with coffee cup in hand listening to my family reminisce about their earlier lives. It's a living history lesson.
Uncle Max gave me a picture of my Daddy and him when he was about seven or eight. Daddy must have been about nineteen or twenty. Daddy's face is not clear in this picture but the picture is around seventy years old so I guess that's to be expected. Even with his face blacked out my Daddy is a handsome man. :)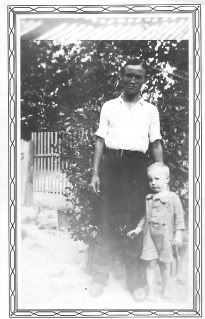 One of my first cousins, Cliff, came to visit with his parents while we were there. He brought three of his four children. I had not seen Cliff in near on fifty years. It was nice to get to know a little about him and his family while we were visiting Uncle Max and Aunt Jackie.
Becky also came over and brought her newest granddaughter, Shelby. Shelby is only four months old and a little beauty. Two of Becky's granddaughters stayed with their great-grandmother and great-grandfather on Friday. Bailey and Madison is their names. They are cuties.
Below is a picture of my sweet aunts and uncles: From left to right: Uncle Henry Teasley, Aunt Jackie Teasley, Aunt Shirley Smith and Uncle Melvin Smith. Seated is Uncle Max Teasley. Precious, precious people.
Cliff and his children; Katie, Sarah (in front) and Jeremy Teasley.
Cliff almost lost Sarah to William. She really took up with William and wanted to come home with us. :) All the children were sweeties.
Now is the time to share the pictures of the Great Tamale Eating Event:
Each year we visit with Aunt Jackie and Uncle Max they get tamales to have to nosh on before lunch. As Aunt Jackie calls them "They're just a little snack." before lunch.
Uncle Max goes to pick the tamales up and they are placed in the center of the table and everyone dives in. I'll admit I am one of the divers too. I don't allow any pictures of me and my tamales. Everyone else is fair game. :)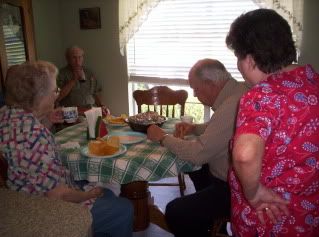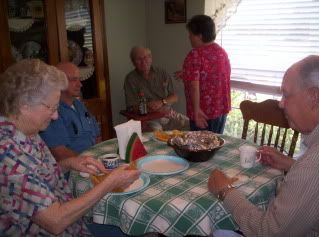 Along with the tamales, Aunt Jackie always lays out a feast for our lunch on the get together day. That woman is a wonderful cook and can work a circle around me even at her age of seventy-seven.
These wonderful people know that I love them but I don't think they will ever know just how much they mean to me. They're a part of my Daddy and that right there says it all.
This last picture is of the Red River as we traveled across it near the town of Clarence.
We had a long trip home. Uncle Max drew William a map that would take us through Natchez on our return trip. William missed his turn in Winnfield which sent us about seventy-five miles out of the way. We did get to see parts of Louisiana that we'd never seen nor would we have seen traveling interstates. However, most of the scenery was nothing but trees. LOL Sometimes I felt we were in "God Forsaken" country. We made it to Natchez but the missed turn caused us to have a longer trip home. Oh, well I was in good company. :)
We always have a wonderful time visiting Western Louisiana. I should say we have a wonderful time visiting my family in Western Louisiana. It's a treat each time we get the opportunity to go. I'm already looking forward to next year. I hope Aunt Betty can be at the get together then.
Thanks Uncle Max and Aunt Jackie for making each trip a trip we'll never forget. We love you all! God bless.