Two weeks can make a big difference. When I last posted, I put some pictures of our garden in the post. The green beans had started running but had not gotten very far up the teepee. Now they are up to the top and are blooming.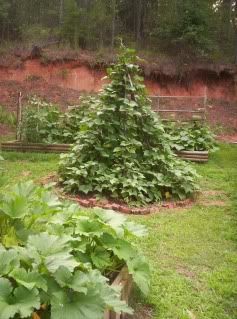 The cucumbers were running up the wire support. Now we have cucumbers about five inches long. These are the Burpless cucumbers.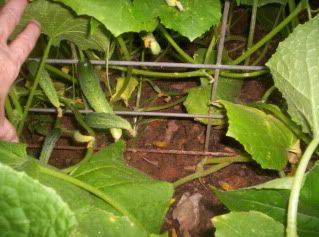 The eggplants were about six inches tall but now they're much larger and have buds on them. Soon there will be eggplants.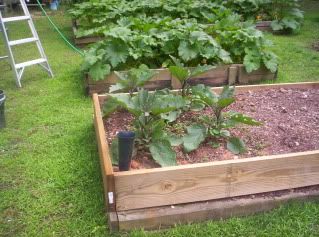 Zucchini and yellow squash are blooming. There are several zucchini fruits on the vines and the yellow squash….Well, what can I say. We couldn't wait so we gathered all we could find and had them for dinner one night this last week.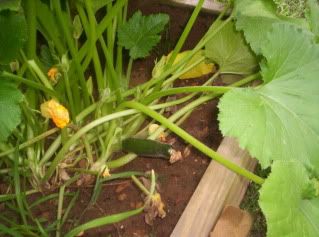 There are a lot of small yellow squash on the vines now. I'll be more patient and wait until they are larger before I pluck these off the vines.
Clusters of tomatoes are hanging on the mature vines. The seeds William planted are coming up. He put three seeds in each hill so we will have transplants.
The tomato plant that came up volunteer in the Swiss Chard is blooming and we think it's a Tommy Toe. That one plant will be all the Tommy Toe tomatoes we need for the summer. We need sandwich size tomatoes.
William built another teepee and we have Rattlesnake beans and Mennonite Purple Stripes planted around it. When our Louisiana Purple pods are done producing the newly planted beans should be ready to start producing.
That's the tour of our garden for today. We are still waiting for all the vegetables to get ready for eating. It won't be long now. They will be worth the wait.
A note about the guinea that was setting. She hatched ten keets. Two have died. Some how some of them escaped their pen and one was dinner for an unknown animal and the other one drowned.
This has not been our year for poultry. Now rabbits that's another matter. Our rabbits have lived up to the old saying "Multiplying like rabbits." I wish the poultry and water fowl would do the same.