William went outside early this morning and begin hoeing the peas and okra. He pulled dirt up around the plants and put out some composted chicken manure around the tomatoes and peppers.

Pulling grass up!



Getting a little stretch: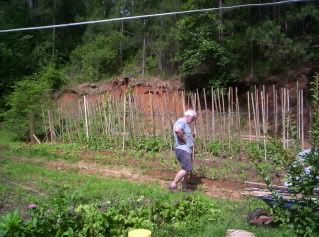 This afternoon we moved the pepper plants from where the water was standing to the end of the row. Maybe they will begin to grow now. They had so much rain that the leaves were turning yellow which indicates too much water.

Tomorrow we have to finish getting the weeds and grass removed and put the compost around the plants.

After this I hope we can reap the fruits of our labors.