Several weeks ago I ordered 25 Araucana/Americana baby chicks. Thursday I got the call that they had arrived to the post office. They are eating, drinking and growing and that is what I want.
For the time being the chicks are living in the house with us. The temperatures have dropped down to the high forties and the low fifties for a few days so to keep the little things warm they are living in a big plastic tub with a light on them. When the temps go back up then they will go to an outside brooder with the light on to keep them warm.
I had actually just cleaned their tub and changed the paper but they didn't care. They started dirting the paper as soon as I put them back in the tub. I'll just throw the paper in the compost bin and let the extra fertilizer make the compost richer. :)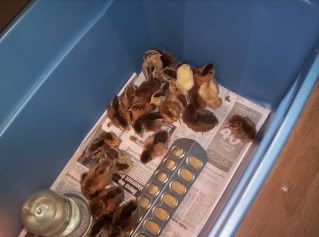 Another picture of the lil darlings.
The Araucana/Americana is my favorite breed of chickens. Not because of the colored shells but because they have continued to lay throughout the winter. I'm hoping this batch will start laying before winter and will keep us in eggs all winter. May be I won't have to buy eggs for Christmas baking again this year.
That's the happenings around here. I hope you all are having a wonderful Sunday wherever you are. :) .