I made fried green tomato/bacon sandwiches for lunch today. I'll have to admit that I stole the idea from the corner coffee shop here in my home town. I did alter the recipe quite a bit though so it's not the same sandwich they serve.
First of all I used Karla's Fried Green Tomato recipe: This recipe came from my e-buddy Karla in California. It's simply delicious, That's all that needs to be said. I've have had tomatoes cooked by this recipe for breakfast, carried them to a family get together, cooked another batch up for my brother to eat all by himself after the reunion and had them on a sandwich. It doesn't matter how I serve them or when I serve them they are soooooooooooooooo GOOD! I will post the recipe below after I get through bragging on my sandwich I had for lunch. :)
We set out some Early Girl tomatoes. These tomatoes don't get very large so they were right for picking this morning.
Waiting to be lunch: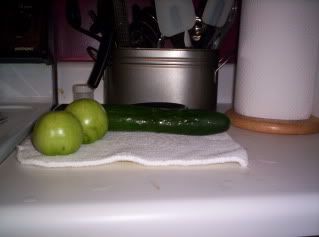 Getting dressed for the party:
Into the hot oil: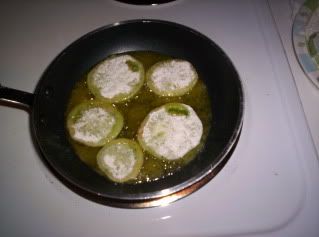 Bacon and tomatoes about to meet:
Plated up and ready to eat. I used sliced cucumbers for the "crunchy" instead of chips.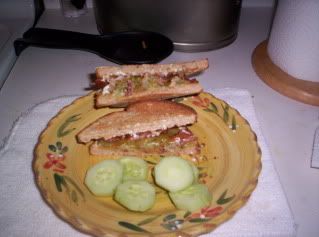 Nothing but crumbs and very few of them!
Let it be said we southern people know how to eat! Not only was this lunch good it was kind of healthy. I did use olive oil for frying and very little oil at all. Maybe that will cancel out the mayo I globbed on my bread. hee hee hee.
Karla's Fried Green Tomatoes
1/2 Cup all-purpose flour l/4 Cup Seasoning Salt
l/2 Cup Lemon Pepper Blend 3 Heaping Tablespoons of dried
basil
Put all ingredients into a plastic bag (except for tomatoes). Pour some of the flour mixture on a plate to coat the tomatoes. Use firm green tomatoes sliced very thin. Pour a small amount of olive oil and vegetable oil into a pan. Coat the tomatoes and put them in the hot oil. Fry tomatoes on medium heat until a fork easily pierces the center portion of the tomato.
Change oil after frying a couple of batches of tomatoes. Add fresh oil as crumbs from tomatoes will begin to burn.
You may refrigerate leftover coating mixture for future use.
All you have to do now is enjoy!