William sold a bench recently. One of the little benches that look like there's birdhouses on the back. A co-worker bought it for her little girl. William builds them mostly to sit flower pots on but they are about the right size for a small child.Anyway the sale has him working to get some of the benches he has made prettied up so he can try to sell them. The colors he has chosen are bright and cheerful. The color on this bench reminds me of watermelon.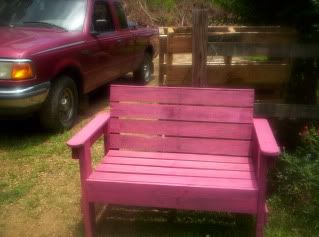 Talking about bright and cheerful, this bench would brighten up any yard!
The glider that is going in my secret garden. I will make some pillows to toss on it to give it more color.
Nice relaxing summertime fun sipping tea, coffee, having breakfast, reading or I could just sit and comtemplate.