All the vegetables we planted two weeks ago are up and growing. The peas are still coming up. One hill of squash and one hill of zucchini disappeared so they will have to be replanted. That's fine and dandy as there will two hills bearing a little later than the others. I'm not sure what happened to the plants unless Tomomi, the cat scratched them up or decided to use the plants for a bed. They're gone completely.
Bed one of theZipper Cream Peas
Bed two of Zipper Cream Peas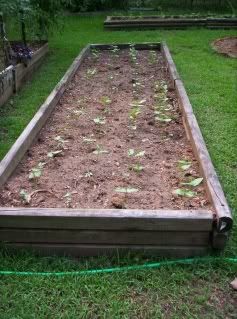 There's some nice looking green tomatoes on the Marianna's Conflict plants. We have six of these tomato plants so in a few weeks we should have plenty ripe tomatoes for more sandwiches. This variety of tomato is really good for slicing either for sandwiches and for a side dish. I'm eagerly awaiting the first ripe Marianna's Conflict. The tomatoes usually grow to the size of a saucer. One slice will cover a slice of bread!
The cucumbers and green beans are looking good. We will need to pull some soil up around them Monday and give them some fertilizer. In fact all the new garden beds will need to be worked and fed.
Satirday we took a little trip to French Camp, Mississippi. On one side of the highway is a Christian school with grades up to twelvth grade. The school is for children who either have been in trouble or have a troubled home life. French Camp Academy is one of my favorite places to invest my money. No, I don't get dividends except knowing that the dollars I send to the school helps children find their way and become productive citizens.
On the other side of the highway is this quaint little town, an old French settlement. Some of the buildings are still standing from the time Leflore settled there. The other buildings are old buildings from around the area that have been moved into the town and redone.
Storage Cabins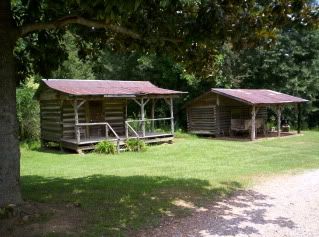 Blacksmith Shop and Tractor Barn
The Museum. Unfortunately it was closed so we didn't get to tour it this time.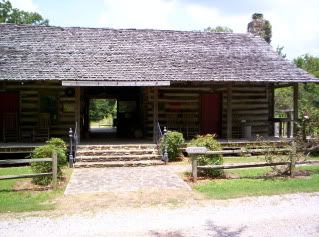 French Camp Inn bed and breakfast is made up of two cabins that were moved into the village and joined together with other old building lumber.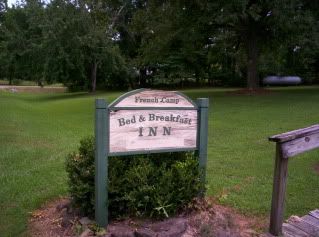 The B & B
The post office is over seventy years old and is now used as a pottery studio. The antebellum home is former home of one of Choctaw County's earliest politicians, Colonel James Drane. Building of the home was begun in 1845..
The Post Office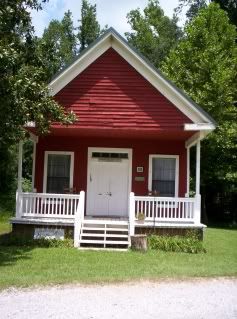 Drane's Antebellum home
We rode through the area and found the lodge and lake for the Camp Of The Rising Son. It's a beautiful lake and the lodge looked inviting.
William and I posed in front of the lake. The yard slopes down to the lake. I felt like I was going to slide right into the lake hence the look of "Hurry up and snap the picture" I have on my face.
William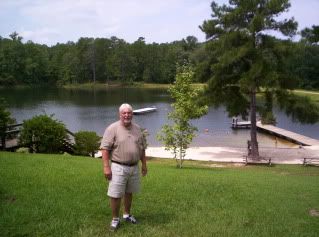 Me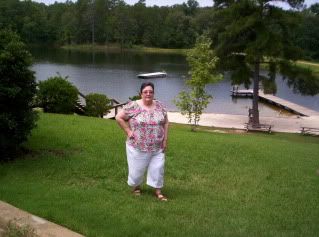 We ate lunch at the Council House Café. They don't have much of a varied menu. Only two sandwiches, two salads, three soups and two desserts were offered but the food was good and I learned one thing……Don't order soup and sandwich there.
The waitress asked if I wanted a cup of soup or a bowl of soup. I ordered the cup of soup which was almost a pint. Then she asked if I wanted a whole or a half of a sandwich….I ordered the whole sandwich…..I couldn't eat half of the sandwich because it was piled so high with meat and lettuce and tomato. Oh well….I have dinner for tonight….Wonder what William is going to do for dinner.
There's a syrup mill set up on sight also. The woman in the gift shop told us that syrup is made each Saturday of October. I'd like to go back in October and watch the syrup being made. Last time we were there we bought a jar of the syrup while it was still warm. Yum!
The last three pictures are of the crepe myrtle at the back corner of our house as well as a mound of Oxalis and a Cannas. The tree came from the crepe myrtles that my daddy set out long years ago across the lower part of their yard. It's blooming beautifully right now! Every time I see the blossoms I think of my daddy and how much he loved flowers.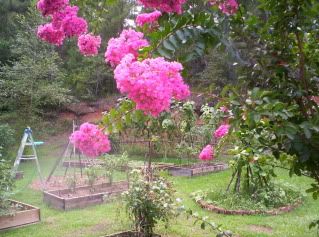 The purple plant growing in our tomato bed is oxalis given to me by my friend gigi. I don't know how it came to be in the tomato bed but I plan to have it in the front flower bed by next spring where everyone who comes to see us can enjoy the beautiful burgundy foliage and the lavender flowers.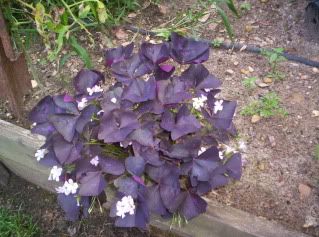 The yellow/red Cannas is like a ray of sunshine in a dull, weedy area of the garden. It is surrounded by volunteer Tommy Toe tomatoes. I'm planning to move the Cannas to the front flower bed this fall. We can enjoy their birght colors and have more area for gardening in the back. These Cannas were given to me by my niece, Daphne.
That was our Saturday. A "Date day" we both enjoyed. Now, I'm looking forward to the next "date day" which will be in early September. We plan to go to the Cullman, Alabama flea market on that date. Being married is fun if you keep your marriage interesting by spending quality time with each other. It doesn't have to be a trip just time together enjoying each other's company.
That last paragraph has nothing to do with peas, pictures or posies. Just a little tidbit that we have learned in our almost twenty five years of marriage.
Thank you for stopping by. I hope you'll come again soon.