The sunflowers are in full bloom even though they're not lifting their heads to the sun. The reason for that is the sun hasn't shown it's face for a several days.
We plan to try to get some more planted Monday. We've been trying to get seed in the ground for two weeks but we've been rained out every day. If it wasn't raining we had doctor appointments that took up most of the day. If we get them sown the first of next week we have plenty of time for a harvest.
This week I've made eight pints and three half pints of watermelon preserves. It's been a lot of years since I've made the watermelon preserves but these turned out just as I remember.
There's a young man who came to my house when he was just a kid. His request every time he came was "Do you have any leftover biscuits and do you have any watermelon preserves?" He's grown up now but when I see him he always asks about watermelon preserves. I plan to give Pepper a couple of pints. The rest will be given as Christmas gifts. That is all but the pint I carried Mark this afternoon, I couldn't wait until Christmas to give him one of his pints. J
Monday, July 23rd is William's sixty-fifth birthday but as many as could got together to eat Mexican food this afternoon. All four children were there. The three sons-in-law came and three of the grandchildren. It would have been wonderful if we could have had everybody there but that's life. We all have obligations and we have to keep those obligations. Maybe, for William's sixty-sixth everyone can be together.
The birthday boy:
Chowing down: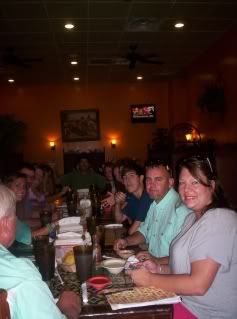 The other end of the table: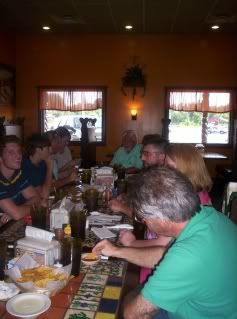 There you have it. The news from Hunny Bunny Haven. With pictures!!!!!!