The pine limbs are being burned today. I was nervous about a fire being set so near the house but Chad and John know what they're doing. They still have quite a lot of pine limbs to burn but they're doing a good job. The yard is already looking better. We've been looking at dead pine limbs all summer. It's good to have them out of the way.
When we came home from shopping I jokingly told John we'd roast marshmellows and wieners. While I love both of those, I'm not sure if they would have tasted good if we'd done the roasting over burning pine.
Chad and John have a hot job. We had to park our truck at the end of the drive and walk in when we returned from shopping. The heat from the fire was rough walking by it and they are out there keeping the flames under control.
William and I are trying to keep them furnished with plenty of cool water to drink. I asked them if they had any water and Chad was getting ready to drink water from the water hose. YUCK! I won't say what that would have been like but it wouldn't have been good.
I've been looking at our trees we have growing in the front yard. The Chaste tree is blooming. This is the first year that it's bloomed. The purple flowers are pretty.
The Crepe Myrtle is in full bloom also. The limbs are heavy with blooms. The color of the blooms is called red but it is more of a deep pink. This is one that Jackie Matthews gave me when I was babysitting Trinity.
The Weeping Mulberry has limbs touching the ground. It's so pretty with the dark green leaves and weeping limbs. It's not yet tall enough for children to use it to hide under the limbs.
The Butterfly Bush has been pretty too. The blooms on this bush are such a dark purple that they appear black. I gave it a good pruning in the early spring but it's grown at least three feet since then. Most of the blooms are gone. I need to check to see if another pruning will give me another burst of blooms.
Daddy set Crepe Myrtles across their front yard next to the road. When suckers came up he brought me some of them. They were set near the road at the home where I lived at the time. I later move from that house. William and I married and bought the place where we live now. Sandi brought me one of the trees that had come up from the suckers Daddy had given me several years before. I put the one Sandi gave me in our backyard. It's beautiful this year. I now have one of the trees that came from Daddy's Crepe Myrtles. :)
I enjoy walking around in our yard looking at the trees, bushes and flowers. Most of them were given to me and bring back sweet memories.
I can't blog without mentioning the garden. The Dorothy's Mennonite Big Heart Tomatoes are beginning to turn pink. One of them feels soft so I don't know if it has blossom end rot or if a "critter" has bored into it. I have to remove the soft one to keep the others from becoming infected with whatever is wrong.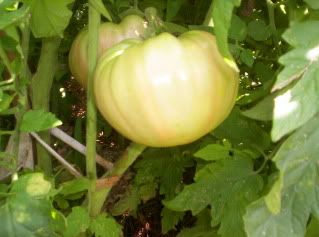 That's it for today. The limbs are still burning but the yard is looking so much better, I walked around making pictures of trees in ninety-six degree weather and got a snapshot or three of the tomatoes. If I had to sweat at least I enjoyed the getting sweaty part.
Thanks for coming in for a visit. Hope to see y'all soon.