....and bread!Our granddaughter, Symanthia, has been visiting with us this week. Symanthia is entering her second year of nursing at Itawamba Community College this fall. We are very proud to be her Pappy and Granny!She has made this visit a learning experience. She told her Pappy that she wanted to learn to use some of his saws. They spent one afternoon working with the saws. She was proud to tell me that she learned to saw a straight line. Good for her. Most girls are too girly to want to learn about saws or anything else that can help them help themselves later on. But, not our Symanthia!Then she told me that she would like to learn to make bread. She mentioned Banana Nut Bread. I explained the difference in making breads like Banana Nut Bread or Pumpkin Bread and the yeast breads. She decided she wanted to make the yeast bread.We found a French Bread recipe and got all the ingredients together then she set to work. I guided her as she measured and stirred the ingredients. We had to take time to smell the yeast after it was added to the warm water. There's nothing that smells any better than yeast when it's activating. Unless, it's the bread after it's baked.When all the ingredients were well mixed, I showed her how to knead. I think she kind of like the kneading. She learned quickly how to pull the dough up and turn it. She worked the dough like a pro.
She put the bread into a bowl for it's first rising. When it was time to punch the dough down, I thought she was going to punch it OUT! LOL She did a good job of that too.After she let the dough rest for 15 minutes she rolled it out into a rectangle and then made her loaf. She sprinkled the cornmeal onto the cookie sheet and then put the loaf of bread on the cookie sheet to let it rise the second time.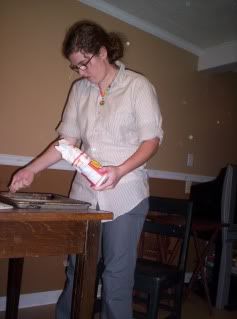 She enjoyed watching the bread rise and become a much larger loaf than what it was at the start. When it had risen the second time into the oven the bread went.
She was so excited. The bread was smelling heavenly and she couldn't wait for it to finish baking so she could taste her creation. But wait she did..........When the bread was finished she put it on a baking rack to wait for it to cool. Well...folks we waited just long enough to get the butter and for her to slice her first loaf of homemade bread. Top of newly baked loaf:
Bottom of loaf perfectly golden brown: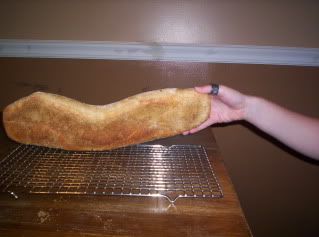 Symanthia cutting the first slice of her loaf of bread:
Slices waiting for the butter:
The bread is delicious. I know because I got the first piece. Wasn't that sweet of her to let her old Granny have the first piece of bread she ever baked? I slathered some butter on the bread and had some good homemade bread baked by my granddaughter.My slice!
She's taking the rest of the loaf home with her tomorrow to share with her Mom, Dad and brother, Jonathan.
We made a memory today. Maybe, some day when I'm no longer around Symanthia will be serving fresh, homebaked, yeast bread and tell the story of baking her first loaf of homemade bread on a hot, Saturday afternoon in July with her Granny Jan. Even if the story is never told and she never bakes another loaf of bread today has been a very special day. I spent the afternoon with one of my granddaughters. That's time well spent.