I went to see if there were any ripe tomatoes this afternoon and there were three ripe ones on the Dorothy's Mennonite Big Heart Plants. Two had been eaten by worms but there was one that the worms had not gotten to yet. I grabbed that tomato so fast it would have made the worm's head spin if there had been one on it or in it.
This variety of tomato is one of the largest that I've seen in years.
Not only is the Dorothy's Mennonite Big Heart a large pinkish color tomato but it's a great tasting tomato.
My dinner tonight was a tomato sandwich.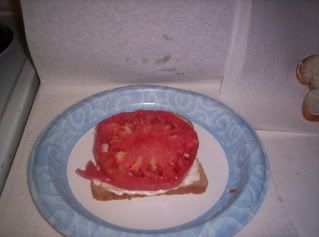 Now this is what I call a "Tomato Sandwich"! Yum, Yum!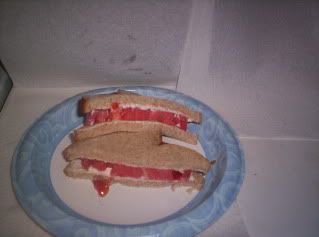 I have gathered seven tomatoes from the DMBH vine... We got three and the worms got four. Unfair odds, I would say. The tomatoes are growing so large that it's hard to see any wiggly critters on them until we pull the tomatoes.
We have the Marianna's Conflict variety also. They're making a larger than usual tomato this year. Funny thing is the worms have left the Marianna's uneaten. They've only gone after the DMBHs.
Here's a couple of pictures of the Marianna's Conflict tomatoes:
This is one of my favorite varieties to grow. They're a tasty tomato.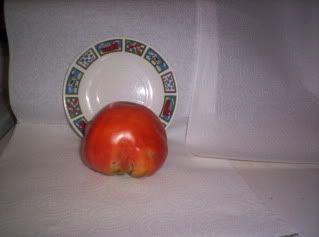 We're enjoying all the Tommy Toes too. I make a salad with the Yellow Tommy Toe and Red Tommy Toe Tomatoes: The salad is a light, healthy salad, colorful and pretty..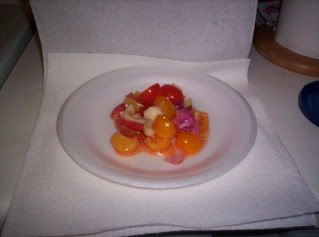 The recipe is below.
5 Red Tommy Toe
5 Yellow Tommy Toe
1/4 of a red onion
1/2 Burpless cucumber, peeled and sliced
Salt and Pepper to taste
In a bowl with a top, cut the tomatoes into quarters, slice the onion into thin strips, and add the peeled and sliced cucumber. Add salt and pepper to taste. Put enough Italian dressing to coat all the vegetables and stir well. Put the top on the bowl and refrigerate for about an hour (can refrigerate longer if you'd like).
This makes a delicious salad served with baked or grilled chicken or eaten as a light lunch. Serves two people.
Note: I use Low Fat Italian dressing..