We have had lots and lots of rain in the last couple of weeks that kept us from working in out garden.




Today was a nice, sunny day so William did finish sticking the green beans.




We still have to stick the butter beans that were supposed to be bunch beans.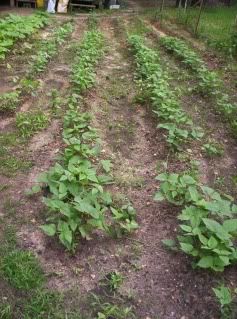 The squash and cucumbers are growing. The way they look we should have some blooms on them before long. UMMMMM....fresh cukes! I can't wait for a cucumber sandwich.




The tomatoes are blooming. Another "I can't wait for" sandwich. Some of the tomatoes aren't growing because so much water has washed down through the garden.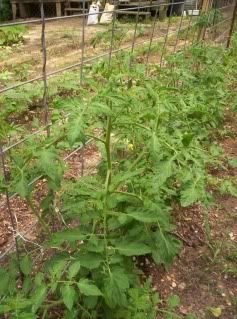 William and I talked today and decided that if our garden doesn't do well this year we will go back to raised beds. We had raised beds for years before we decided to go to the traditional row garden. We will need a tiller if we continue with the rows but can use that money to make the raised beds.

When we had raised beds we had one that was four feet by twenty feet where we planted our green beans. We had eight (I think I'm right) raised beds. We grew a lot of food in those beds.

We never had to plow and had very few weeds come up in the beds. Since we've had so much rain, the weeds and grass are taking over our this year's garden.

Fortunately, we are predicted to have four days of sunshine. Maybe, we can get the grass out and fed to the chickens this week.

I have one more picture. This one is of my sweet, tired husband. He was worn out and I caught him resting. :)





This is all that is going on with the garden at this time. I still have some more planting to do. Maybe, that will get done while the sun is shining, too.

A note about the baby ducks: Some varmint got all eight of the babies. Nary a one was left. This happened while I was staying with Mom at the hospital. It broke my heart. The ducklings were so cute!