A Garden In Boxes
When William and I first started gardening we had raised beds. After a few years we decided to go to the traditional row garden. With the row gardens our production fell dramatically.
This year we decided to go back to raised beds. William has been busy building the boxes for the raised beds. It's been backing breaking work with him working until dark most days after school and on weekends. Rabbit manure, leaves, composted chicken manure, compost and garden soil have been mixed together to go in the beds.
He has gotten the beds ready and we have them planted. So far the plants are growing and looking very promising. The yellow squash, zucchini, peppers and some of the tomatoes are either blooming or have buds on them.
Saturday, William built a new frame for a tomato bed. In this bed we have Yellow Pear, Jelly Bean, Red Tommy Toe, Marianna's Conflict, Dorothy's Mennonite Big Heart, Dinner Plate and Roma plants. A good variety of different tomatoes. Some of these varieties I've never tried to grow.
Marianna's Conflict has been a good tomato for us. It's a smaller tomato but very good and grows well in this area.The Jelly Bean is a grape tomato. These are the types of tomatoes we like to eat straight from the vine along with the Tommy Toe and the Pear type tomatoes.Personally, I'm looking forward to the Dinner Plate variety ripening. Just the name of this tomato makes my mouth water. I can imagine a thick slice of the juicy, ripe tomato on bread smothered with mayo and topped with basil leaves. Yum!
The bed of zucchini and straight neck yellow squash is looking good. There's a lot of flower buds on all the plants. Yellow squash is one of my favorite summer vegetables. We enjoy the yellow squash sautéed in some vegetable oil with onions and loads of fresh cracked black pepper. I can make a meal on sautéed squash.
The green beans are ready for support. I planted half the bed three weeks ago and then planted the other half this last Saturday. The west end of the bed needed more dirt put in it so it took a few days for William to get that done. My Mom gets a kick out of me calling these beans green beans since they are Louisiana Purple pods. J The pods turn green when they are in hot water.
Below is some pictures of the garden in boxes. I hope it produces as good as it looks.
Tomatoes and Eggplant: This bed has the Early Girl and Better Boy tomatoes and Black Beauty Eggplants.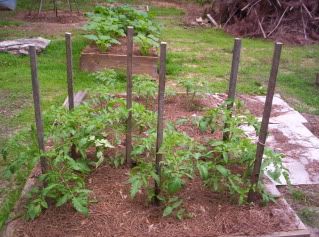 This bed holds all the different tomatoes from Jelly Bean Grape to Dinner Plate and all in between.
The Yellow Squash and Zucchini.
.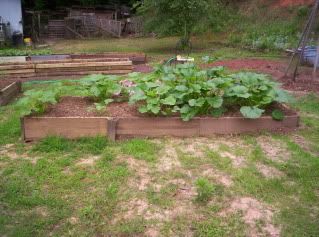 Cucumbers are in a smaller bed but there's enough for us and some to share. That is if they produce at all.
Half a bed of green beans. The west end of the bed was planted on May 8th and are just now breaking through the soil.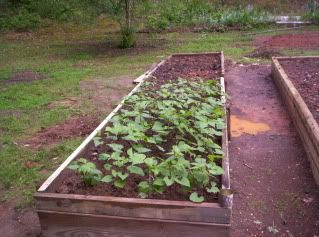 The okra isn't growing very fast but we have had some cool nights and days. It will jump start when the temps get to a steady "HOT".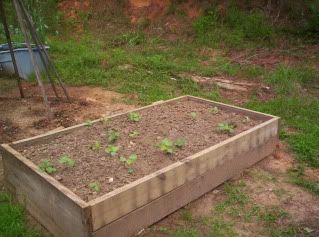 This will be a tepee of green beans. I'm thinking I may plant some lettuces under the beans once the beans cover the tepee poles. I'm not sure what kinds of beans these are except for Italian flat beans planted around three of the poles.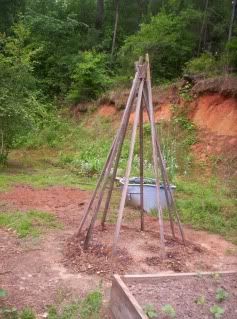 A bed of peppers. There's Sweet Banana, Jalapeno, Cayenne, and Sweet Bell plants in this bed. I planted two hills of Thai pepper and two hills of Poblanos on May 8th. I'm holding my breath (well not literally) that these seeds germinate. I absolutely love Thai and would love to have the Poblano to stuff. Yummy!
The next picture is a plastic tub William set some "maters" and peppers in. Now do you believe we make do with what we have? :)
To end this picture show is one that I couldn't resist showing. The white rose next to William's goldfish pond.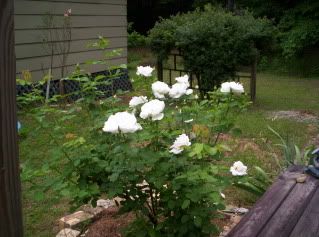 I hope you enjoyed your garden tour. We're planning to do some more work tomorrow so be on the lookout for more pictures. I love my gardens!