This morning we were lazy and never ate breakfast. Using "no breakfast" for an excuse I cooked a large lunch.
The yellow squash, zucchini and cucumbers are ready to be eaten. Yep, a large lunch of fresh veggies sounded fine with both William and me. I stewed the yellow squash with some onions and butter and cooked some green beans from the freezer. While I was doing my cooking on the stove, William grilled sliced zukes and small ribeye steaks. I sliced a cucumber to go along with the other goodies.
If the manna that God sent from heaven tasted any better than the first spring veggies do, I really don't know why the Isrelites let any of the manna go to waste. LOL Our lunch was so yummy! I don't mean to be bragging on my cooking.....I'm talking about those fresh veggies!
Go with me while I take the veggies from the vine to the plate:
Zucchini, yellow squash and cucumbers. The first of the season!
Yellow Squash on the vine:
Yellow squash waiting to be sliced and put in the pan.
Onions, yellow squash and a little butter getting stewed up!
These are the first zucchini from our garden. They do grow fast! I looked at them a day or two ago but when I went to look again some were almost to large. I think they will do nicely fried like green tomatoes.
Zucchini ready to go on the grill:
Zucchini and ribeyes grilling: Zucchini are delicious grilled. My new favorite way to cook them.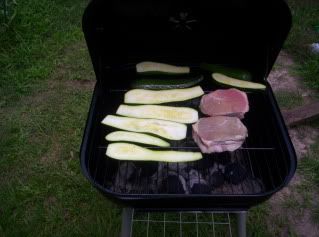 The first cucumber this spring:
Lunch is ready!
A good lunch it was! It's so good to have the fresh veggies getting ready to feast on. It will be nicer when the green beans are ready to gather and serve with squash, cukes, zukes and okra. Oh and don't forget the 'maters! We eat good and it's all low carb which translates into healthy. O.K. healthy sans the butter. LOL