In raised beds, on teepees and any place else I can find to sow......
Green beans growing on a teepee and a raised bed filled with cucumbers, one potato plant and one tomato plant (the tater and mater came up volunteer).
Eggplants and a bed of zucchini
Early tomatoes, bed of yellow squash and the bed of zucchini.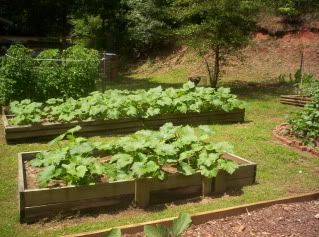 Peppers (sweet bell, cayenne, jalapeno, and sweet banana), the green beans and cucumbers.
Our blueberry bushes. We have three bushes planted in one big hole. I wanted to put some more out this spring but didn't get to do it. Maybe we can find some this fall and get them in the ground. I'd love to have six more bushes.
That's all we have planted so far. We plan to plant one or two beds of green beans on teepees. I know we have room for one more teepee. I'm hoping for two.
We have more tomatoes planted in the bed with the early tomatoes and plan to put some at the end of the eggplants and the jalapeno peppers.
That's our raised bed garden. I think it looks pretty good. Can't wait until it starts to produce fruits. Yummy veggies and good sweet blueberries.