I took a little walk around the yard today with camera in hand, of course! William had just finished hoeing the peas and okra again so I stopped by the garden to take a little peek.
The squash are a very pale green but I have never seen so many blooms on our squash since we started gardening. Not all blossoms have squash but there are a lot of baby squash on that row of plants.
I can't decide how to use these little delicacies first. Should I cook them with butter and onion loaded down with fresh cracked pepper or should I slice some of them to add to a salad or should I slice them and dip them in ranch dressing. Maybe, I should do all three and make a meal from squash. That's sounds like a winner to me.
Picture of squash plant with blooms: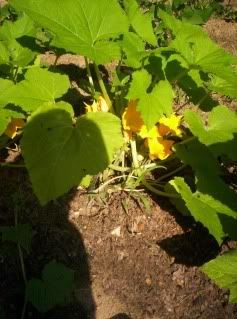 Imagine a twenty-five foot row of plants just like this one. We should have some squash to preserve this summer.
Two more gladioli are blooming. One is a cheerful yellow and the other is a deep red-purple. Sure I made pictures of these also.
The yellow gladiola has two stalks twisted together.
This is such a showy color. Most of the colors in my flower garden are pastels. There's only a few deeper colors which makes this gladiola special to me along with being given to me by Jason.
Several years ago I planted some Calla Lily Bulb/corms/whatever. It's been so long that I don't remember what I planted. The foliage came up each year but never bloomed until this year. So far there are two of the plants blooming. Notice the varigated foliage on the plants. Callas are some of my favorite plants. I was thrilled to see this blossom.
A Burgundy Canna with the sunlight hitting it just right. This is in what William calls the "holding pen". This is where we put plants that we don't have time to find another place to set them when we first receive them. This canna is going in my little hideway that William is going to help me build.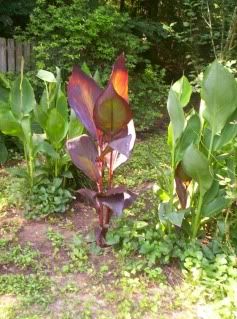 Last but certainly not least is a Althea/Rose Of Sharon that is supposed to be a bush but has grown into a slim tree. It's covered in beautiful purple blossoms.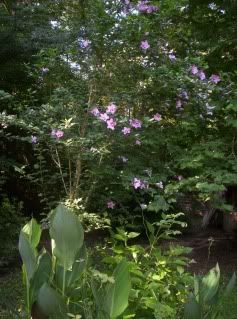 I love to walk in my yard. While it's not manicured as some fancy yards are it's mine and it changes daily. So each morning or late afternoon stroll through the yard is an entirely different trip for me.