I think I've committed botanical murder. After planting the greens last week, I decided the squash and cucumbers needed some fertilizer. We have some organic liquid fertilizer that we had bought. Being in a hurry I didn't take time to dilute the fertilizer instead pouring a small amount onto the dirt and then digging it in around the squash and cucumbers.
Today I went to the garden to look at the little greens poking their heads up through the dirt. Lo and behold the cucumber vines look horrible. They have yellowed leaves with spots on them. I've burned them up with organic fertilizer.
Now I'm wondering just how organic this fertilizer is if it burns like this. I've poured strong rabbit manure tea over plants with no sign of burning whatsoever. When I fertilized the plants last week no fertilizer touch the plants but the leaves still look cooked.
Before:
After:
On a lighter side the greens are up and looking good. They are planted thickly. When the plants are little larger I will transplant some of the plants and thin some. The thinnings I will use in stirfry or a salad. No waste here.
This is the kale: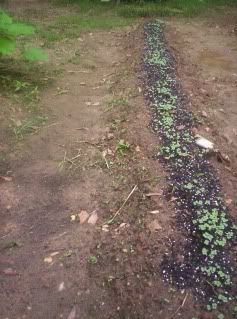 Here is a picture of the lettuces. I mixed several varieties of lettuces and planted them together.
The next picture is a small spot of swiss chard. There is a row about ten feet long of swiss chard but I only made the picture of a small spot.
We are still getting a few tomatoes from the volunteer vine. I hope this one vine will supply us with a tomato here and there until frost. The tomatoes on this vine have tasted so good. I don't know if it's because I know the tomatoes are about gone for the summer or if these tomatoes have a better taste than the others. Either way, we're enjoying the last of our harvest.
On another note. The wild animals are still attacking our birds. All our ducks have been killed except for the old Pekin, Matilda. I guess she's too tough for the animals to digest.
They have killed several of our roosters we've raised for the freezer and some of our Barred Rock hens. Last night some kind of animal dug into the rare breed (Buttercup) pen and killed one of the young pullets.
William worked this afternoon to reinforce the pens so as to keep the animals out. Traps aren't working. We may have to set up a stake-out to find out what type of animal this is.
It's heartbreaking to raise birds up to the age they are just before beginning to lay and then have a wild varmint come along and make dinner out of them. I know that is what wild varmints do but it doesn't mean I have to be happy about it.
That's the goings on here at Hunny Bunny Haven. Thanks for dropping by. Come back again, y'all.